Grayce Ubben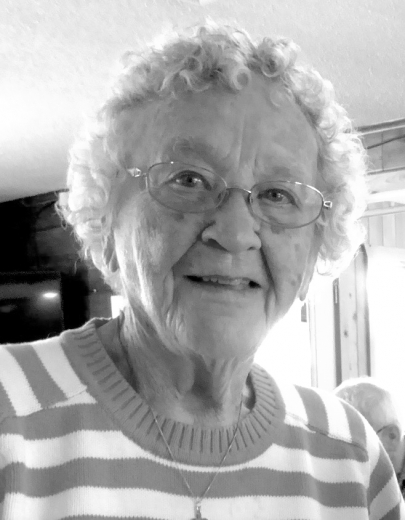 Grayce Maggie Ubben, age 97, of Aplington, Iowa, was born the daughter of John and Hattie (Siebenga) Kuperus on July 15, 1923, in Pease, Minnesota. She received her education in Pease. After school, Grayce moved to Austinville and worked at Limburg Store.
On June 3, 1949, Grayce was united in marriage with Tako Ebel Ubben at the Christian Reformed Church in Austinville, Iowa. After their marriage, they made their home in Austinville. In 1967, the couple moved to Aplington. Through the years, Grayce worked at Austinville Hatchery, Norgas in Aplington and as a cook at the Aplington School.
Grayce was a member of First Reformed Church in Aplington. She enjoyed gardening, especially growing flowers. Another of Grayce's favorite hobbies was quilting. Grayce adored her grandchildren and loved spending time with her family.
Grayce died Saturday, October 3, 2020, at Maple Manor Village in Aplington, of natural causes. Grayce is preceded in death by her husband of 58 years, Tako; a son, Randy Ubben; her parents, John and Hattie Kuperus, three brothers, Sam, John and Frank Kuperus, six sisters, Tena Siebenga, Minnie Van Dalen, Gertrude Ubben, Julia Janssen, Lena Stubbe and Myrna Eiten.
Grayce is survived by three sons, Tod (Colette) Ubben of Aplington, David (Lynn) Ubben of Perry, Iowa, Timothy (Deanne) Ubben of Cedar Falls, Iowa; one daughter, Jocelyn (Rus) Druvenga of Dike Iowa; one daughter-in-law, Lisa Ubben of Aplington, 10 grandchildren, Peter (Penny) Marshall, Travis (Kristi) Druvenga, Kelli (Jason) Hisey, Mitch (Kelly) Ubben, Molly (Jamie) Norten, Annie (Josh) Sharp, Riley Ubben (Sian Olson Davis), Isaac Ubben (Clara Petersen), Cody (Nicole) Ubben and Cassi (James) Price; and 16 great grandchildren.
Funeral services were held at 11:00 a.m., Wednesday, October 7, 2020, at First Reformed Church in Aplington. Pastor Brett Van DerBerg officiated the service and Cami Haugstad was the organist. Recorded music, "Amazing Grace" and "Where The Roses Never Fade" by Tako was played. Burial was at Memorial Park Cemetery in Austinville, with Travis Druvenga, Trey Druvenga, Mitch Ubben, Isaac Ubben, Cody Ubben and Lance Ubben serving as Casketbearers.
Visitation was held one hour before the service at the church. Memorials may be directed to family. Redman-Schwartz Funeral Chapel in Aplington is in charge of arrangements. Online condolences may be left at www.redman-schwartz.com.
Category:
Parkersburg Eclipse News-Review
503 Coates St.
Parkersburg, IA 50665
Phone:  319-346-1461
Mid-America Publishing
This newspaper is part of the Mid-America Publishing Family. Please visit www.midampublishing.com for more information.