A-P school board votes for in-person learning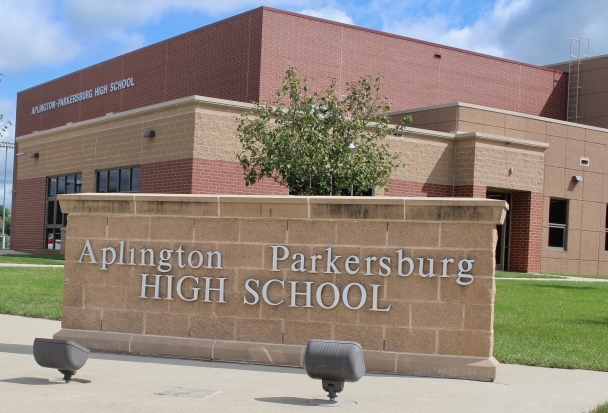 This story is presented for free as part of ongoing COVID-19 coverage and is of urgent interest to our readers in the Aplington-Parkersburg school district. To our current subscribers and advertisers, thank you for your support. If you are not yet a subscriber, click here to consider our subscription options. - Jake Ryder, Eclipse publisher
After more than an hour of deliberation Monday, the Aplington-Parkersburg School Board voted unanimously to have students and staff conduct full-time, in-person learning at the district's schools.
As of now, masks will not be required, but will be highly recommended. Future specifications and guidelines will be released in the first week of August, pending review from state officials.
Monday's regular meeting at the A-P High School Library had a dozen more in attendance than usual, mostly teachers and nurses, socially distanced and speaking their peace about the Return to Learn plan, which, per Iowa Governor Kim Reynolds' recent proclamation, needed to prioritize in-person learning for at least 50 percent of the school year.
There was respectful debate among those attending as to various pros and cons of what student-teacher interaction would require going forward. Some educators brought up the summer temperatures and the heat inside of school making masks difficult to breathe in, while others were concerned they would not be able to project their voices or be heard well enough during lessons if they were required to wear masks at all times.
Others were concerned about the health implications of in-person learning in Iowa during the ongoing COVID-19 pandemic.
"I'll be honest, I'm nervous just seeing what's happening around the county and I honestly think it's just a matter of time before we have a big outbreak, not just [in the United States] --but in our state," said Adam Wauters, a mathematics teacher at A-P High School. "I think that we are kinda in denial a little bit. We've had kids with parents fighting cancer, and they might be okay, but if they go home and give it to mom or dad who is on chemo and has no immune system… it makes me very nervous. I think everyone here agrees we want to be in the building and interacting with our kids and teaching, but we've gotta do it safely."
Aplington-Parkersburg/Grundy Center Superintendent Robert Hughes referenced a family survey that, out of 217 responses to the survey, 52 percent of those responding preferred on-site education in the 2020-21 school year.
"From an administrative perspective, that is what we are recommending," Hughes continued, "as long as we can do that safely."
The Board and the attendees discussed at length the necessary procedures involved in the future of school cleanliness and the protocol in place for combating the virus. In addition to an overabundance of sanitizing and social distancing within the halls and classrooms, the Board and committees that had been formed specifically for the COVID-19 response had also discussed mitigation strategies for the foreseeable future.
"We know we are going to have to change practices that we have, to make sure that we are communicating safety for our kids," Hughes said. "…[T]he school should be closed to anyone other than staff and students. Now, that's different for extracurricular [activities.] But, for the regular school day we really want to tighten our belts on security."
Board member Amy Truax recommended that, based on her experience interacting with other school board members, requiring masks might be the best route to pursue, believing it would be easier to loosen restrictions, rather than to go the other route if they were suddenly burdened with increasing mitigation efforts.
In contrast, Board member Dave Schneiderman spoke of his conversations with parents within the district that had expressed concern over the idea of mandatory face coverings, and thought that requiring masks would lead to parents/guardians pulling their children out of school.
School districts in Iowa were required to come up with three different learning plans as part of the "Return to Learn" initiative – distance learning, hybrid learning and face-to-face learning. However, Gov. Reynolds' orders complicate the feasibility of distance and hybrid learning as at least 50 percent of student school time is required to be face-to-face learning under the Governor's orders.
The Governor's proclamation includes contingencies for situations in which distance learning can be more fully utilized, many of which would be a direct result of any future COVID-19 outbreaks or inclement weather. The Governor also allowed for parents or guardians to offer their consent for their student to utilize a distance learning option on a child-by-child basis.
Category:
Parkersburg Eclipse News-Review
503 Coates St.
Parkersburg, IA 50665
Phone:  319-346-1461
Mid-America Publishing
This newspaper is part of the Mid-America Publishing Family. Please visit www.midampublishing.com for more information.