Theodore Jungling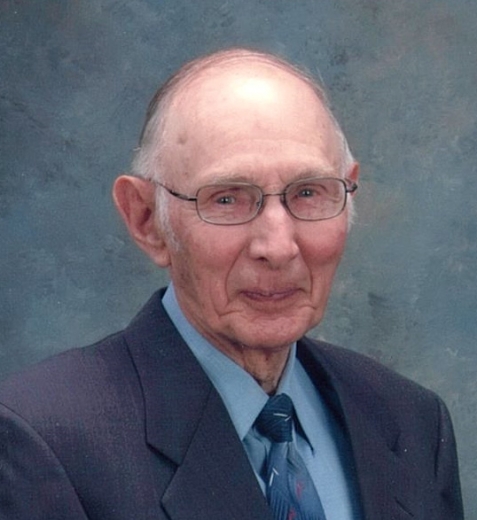 Theodore "Ted" John Jungling, age 89, of Aplington, Iowa, was born the son of John T. and Tillie (Adolfs) Jungling on May 10, 1931, on a farm north of Aplington. He received his education at the Aplington School.
On February 6, 1953, Ted was united in marriage with Delores Eilderts at the Washington Reformed Church of rural Ackley, Iowa. They made their home on the family farm. To this union three children Charlene, Russell and Dennis were born. Ted assisted his father on the farm and operated a tiling business for several years, until he took over the farming. Ted was active in the community as a School Bus driver in the Aplington School District for 50 years that included the Bear Grove route. Ted and his wife were custodians for the Bethel Reformed Church for 46 years, which he especially enjoyed in his retirement years.
Ted was a member of the Bethel Reformed Church rural Aplington. Ted enjoyed farming along with his hobbies which included collecting toy tractors, model trains and an outdoor garden train. He also enjoyed working on jigsaw puzzles and reading. Ted always looked forward to the yearly Branson trips with Delores. He loved spending time with his family and all of their get-togethers.
Ted passed away peacefully on Saturday, June 20, 2020, at Unity Point Hospice, Allen Hospital in Waterloo, Iowa, from natural causes. He was preceded in death by his parents John and Tillie Jungling.
Ted is survived by his loving wife of 67 years Delores; three children, Charlene (Harris) Daniels of Ackley, Russell (Jean) Jungling of Iowa Falls and Dennis (Julie) Jungling of Aplington; five grandchildren, Kendra (Kevin) Christensen, Stacey (Kevin Halsey) Daniels, Joshua (Lacasta) Jungling, Krista Jungling and Lisa Jungling; eight great-grandchildren, Angelina, Zakkary, Ravyn, Violette, Audrey, Dylan, Eva and Deja; one sister, Jeanette (Harvey) Beenken of Grundy Center.
A family funeral service was held 10:30 a.m., Saturday, June 27, 2020, at Bethel Reformed Church in rural Aplington. Pastor Scott Summers officiated the service. Deja Jackson read the Psalm 23. Belva Schipper was the organist and she accompanied the congregation as they sang "How Great Thou Art", "What A Friend We Have In Jesus" and "The Old Rugged Cross". Burial was at Bethel Reformed Cemetery in rural Aplington, with Russell Jungling, Dennis Jungling, Joshua Jungling, Harris Daniels, Kevin Christensen and Kevin Halsey serving as Casketbearers.
Memorials may be directed to the family. Redman-Schwartz Funeral Chapel in Aplington was in charge of arrangements. Online condolences may be left at www.redman-schwartz.com
Category:
Parkersburg Eclipse News-Review
503 Coates St.
Parkersburg, IA 50665
Phone:  319-346-1461
Mid-America Publishing
This newspaper is part of the Mid-America Publishing Family. Please visit www.midampublishing.com for more information.