All-NICL East Softball Teams: D-NH with 3 1st-teamers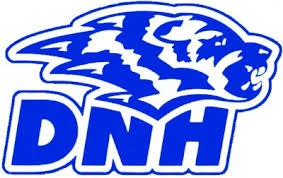 Three Dike-New Hartford softball players are first-team selections on the All-NICL East softball teams released over the weekend.
Freshman Payton Nolan (catcher), junior Taylor Kvale (shortstop) and senior Addy Sohn (outfield) were the three Wolverines receiving top-team recognition.
Nolan had 22 hits in 44 at-bats in NICL East play, knocking in eight runs and scoring seven times; behind the plate, she had a perfect fielding percentage in 82 total chances.
Kvale hit .426 at the plate with a home run and team-best marks with six doubles, 18 runs batted in and 18 runs scored. She also led the NICL East with 22 stolen bases in divisional play.
Addy Sohn hit .487 against division opponents with two doubles and four RBI.
Senior pitcher Abby Sohn was a second-team selection for the Wolverines. She allowed 29 earned runs in 51.1 innings pitched with 38 strikeouts and 23 walks. D-NH sophomores Ella Costello and Misty Harreld received honorable mention.
The Wolverines finished tied for fourth in the East at 10-6 and set a school record with 20 overall wins this summer, bowing out in the regional quarterfinal against Alburnett.
Aplington-Parkersburg seniors Emalee Price and MaKenna Brouwer earned honorable mention. Price hit .273 in NICL East play with a double and two runs scored and led the team with a .943 fielding percentage. Brouwer batted for a .240 average with a double and two RBI and was second on the Falcons with a .931 fielding percentage.
A-P finished 0-16 in NICL East play and reached the regional quarterfinal before being knocked out by Waterloo Columbus.
The NICL East's top honors both went to members of the Hudson softball team: Pirates junior Ella Engel was named the Player of the Year and Hudson skipper Jeff Curley was named Coach of the Year.
All-NICL East Softball Team
2021 Season
Player of the Year
Ella Engel, Hudson
Coach of the Year
Jeff Curley, Hudson
First team
(* unanimous)
Second team
Honorable mention
(area teams only)
Aplington-Parkersburg: Emalee Price, sr.; MaKenna Brouwer, sr.
Dike-New Hartford: Ella Costello, soph.; Misty Harreld, soph.
2021 NICL East Standings
Category:
Parkersburg Eclipse News-Review
503 Coates St.
Parkersburg, IA 50665
Phone:  319-346-1461
Mid-America Publishing
This newspaper is part of the Mid-America Publishing Family. Please visit www.midampublishing.com for more information.