Bonnie Lindaman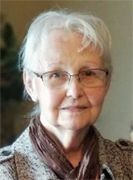 Bonnie Jean Lindaman, age 80, of Grundy Center, Iowa, was born the daughter of Alfred and Ella (Schiller) Tjepkes on December 25, 1941, in rural Parkersburg, Iowa.  Bonnie graduated from Parkersburg High School in 1960.
On December 28, 1960, Bonnie was united in marriage with Larry Lee Lindaman at the Bethel Lutheran Church in Parkersburg.  Through the years, Bonnie and Larry lived in Bristow, rural Allison, and Fern before making their home in rural Dike.  Bonnie worked as a clerk at Meads Grocery Store in Dike then at Manly Drug in Grundy Center.  She retired in 1998.
Bonnie was a member of the Stout Gospel Hall in Stout, Iowa.  Bonnie enjoyed reading, fishing, and cooking. She also loved to play cards. Bonnie loved the Lord first and her family second.  After every visit, you went home with a "Bonnie bag full of goodies."
Bonnie went to be with the Lord on Saturday, May 14, 2022, at her home in Grundy Center.  Bonnie is preceded in death by her husband of 42 years, Larry, on June 10, 2003; her parents, Alfred and Ella Tjepkes; and one brother-in-law, Ralph Voogd.
Bonnie is survived by two daughters, Lori (Greg) Sharp of Grundy Center and Shelly (Steve) Johnson of Holland, Iowa; four grandchildren, Brandon (Rochelle) Sharp, Drew Sharp (Kaitlin Sager), Heather (George) Epps, and Heath (Caitlin) Bakker; five step-grandchildren, Joey (Rosemary) Johnson, Jennifer Johnson, Jill (Chad) Blanchard, Jessica (Shelby) Blanchard, and Janae Johnson; five great-grandchildren, Natalie, Everly, Hannah, Hayden and Carsyn; several step-grandchildren and step great-grandchildren; and two sisters, Carol Voogd of Parkersburg, and Lois (Dennis) Mennen of Parkersburg.
Funeral Services were held 10:00 a.m., Wednesday, May 18, 2022, at the Stout Gospel Hall in Stout, Iowa. Mr. Russell Nesbit officiated the service. "I'm So Glad That Jesus Loves Me", "Amazing Grace", and "Just As I Am" was provided as special music. Burial was held at Hitesville Cemetery in Kesley, Iowa with Brandon Sharp, Drew Sharp, George Epps, Heather Epps, Heath Bakker, and Hannah Bakker serving as Casketbearers. Hayden Bakker, Carsyn Bakker, Natalie Sharp, and Everly Sharp served as Honorary Casketbearers.
Visitation was held from 5:00 p.m. to 7:30 p.m. on Tuesday at Redman Funeral & Cremation Services in Parkersburg and one hour before services at the church. Memorials may be directed to the family. Redman Funeral & Cremation Services in Parkersburg was in charge of arrangements.
Category:
Parkersburg Eclipse News-Review
503 Coates St.
Parkersburg, IA 50665
Phone:  319-346-1461
Mid-America Publishing
This newspaper is part of the Mid-America Publishing Family. Please visit www.midampublishing.com for more information.