Claas Kampman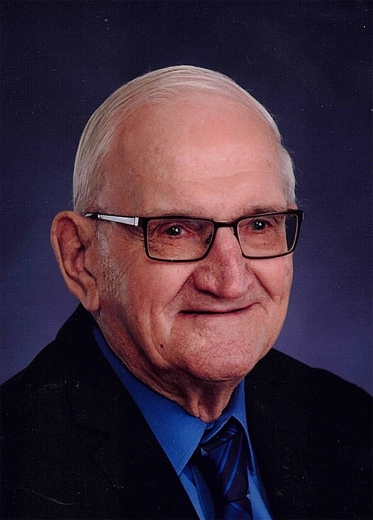 Claas William Kampman, age 95, of Parkersburg, Iowa, was born the son of William and Harmine (Planteur) Kampman on December 29, 1926, in rural Butler County, Iowa.  Claas attended Ripley No. 5 School in Butler County.
On December 29, 1948, Claas was united in marriage with Esther Hermina Muller at the Bethel Reformed Church in rural Aplington.  To this union, four children were born.  All their married life, Claas farmed the Kampman family farm north of Aplington.  In 1993, Claas retired and moved to his home in Parkersburg.  
As a young adult, Claas made a public profession of his faith at the Bethel Reformed Church, where he served as elder, deacon and Sunday School teacher.  After moving to Parkersburg, Claas joined and became a member of the Hope Reformed Church.  He was often heard stating two of his favorite sayings, "God is so good to me." and "Whatever the Lord wills, so shall it be."  Claas enjoyed reading, golfing, bowling, the Iowa Hawkeyes, and morning coffee with friends.  His greatest joy was spending time with his family.
On Sunday, April 10, 2022, Claas passed away at Creekside Care Center in Grundy Center, Iowa.  He is preceded in death by his wife of 42 years, Esther on December 31, 1989; a son, William Kampman; a granddaughter, Kristin Kampman; a great-grandson, Simeon Kampman; his parents, William and Harmine Kampman; one brother, Chris (Gerdena) Kampman; seven sisters, Alma (Jake) Meester, Johanna (George) Boelman, Wilhemine (Ben) Jungling, Mary (Steno) Schipper, Clara (Roland) Krusey, Alberta (Arnold) Schaap and Margaret (Folkert) Folkerts.
Claas is survived by one daughter, Barb (Ron) Dennler of Cedar Falls, Iowa; two sons, Robert (Dort) Kampman of Kesley, Iowa, and Marlin (Sharla) Kampman of Harvey, Iowa; seven grandchildren, Andy (Jamie) Kampman, Aaron (Linde) Kampman, Curt (Abbie) Kampman, Nathan (Cheri) Kampman, Trish (Wade) Van Dyke, Beth (James) Rozendaal and Kari (Tommy) Schorer; 24 great-grandchildren, one sister, Annie (Don) Allspach and many nieces and nephews.
Funeral services were held at 10:30 a.m., on Saturday, April 16, 2022, at the Hope Reformed Church in Parkersburg.  Pastor Nate Huisman officiated the service.  Organist was Cathy Myers and she accompanied the congregation as they sang "In The Garden", "Blessed Assurance" and "How Great Thou Art".  Lois Fisher provided special music as she sang "Trust And Obey".  The burial was held at Bethel Reformed Cemetery in rural Aplington, with Andy Kampman, Aaron Kampman, Curt Kampman, Nathan Kampman, Wade Van Dyke, James Rozendaal and Tommy Schorer serving as Casketbearers. Honorary Casketbearers were Jamie Kampman, Linde Kampman, Abbie Kampman, Cheri Kampman, Trish Van Dyke, Beth Rozendaal and Kari Schorer.
Visitation was held from 4:00 p.m. to 7:00 p.m. on Friday at Redman Funeral & Cremation Services in Parkersburg.  In lieu of flowers memorials may be directed to Hope Reformed Church Missions, Lakeview Camp in Pella or Samaritan's Purse.  Redman Funeral & Cremation Services in Parkersburg was in charge of arrangements.  Online condolences may be left at www.redmanfuneral.com
Category:
Parkersburg Eclipse News-Review
503 Coates St.
Parkersburg, IA 50665
Phone:  319-346-1461
Mid-America Publishing
This newspaper is part of the Mid-America Publishing Family. Please visit www.midampublishing.com for more information.