Curtis Lee Peters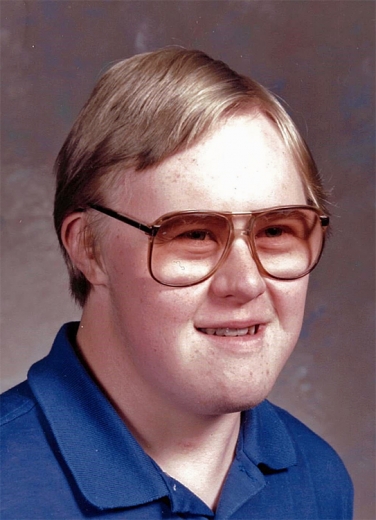 Curtis Lee Peters, age 54, of Aplington, Iowa, was born the son of Ecko and Lucille (Miller) Peters on November 6, 1967, in Grundy Center, Iowa. Curtis graduated from River Hills School in Cedar Falls, Iowa.
Curtis lived with his parents on a farm in rural Aplington. When his parents retired, they moved into Aplington. Curtis later moved to The Meadows in Hampton, Iowa, and in 2018, he moved to Maple Manor Village in Aplington.
Curtis worked at Exceptional Persons, Inc. in Cedar Falls. When he moved to Hampton, Curtis worked at Access, Inc.
Growing up, Curtis was a member of Bethel Reformed Church in rural Aplington and when they moved into Aplington, he became a member of First Reformed Church. Curtis was a huge Iowa Hawkeye fan. He loved WWF wrestling, listening to the Oak Ridge Boys and family gatherings. Once Curtis got to know you, you were a friend for life, and he never forgot your name.
Curtis died May 15, 2022, at Maple Manor Village in Aplington. Curtis is preceded in death by his parents, Ecko and Lucille Peters; a sister, Noreen Matura; and an infant sister, Paulette Peters.
Curtis is survived by four brothers, Anthony (Pat) Peters of Cedar Falls, David (Deb) Peters of Aplington, Wesley (April) Peters of Parkersburg, Iowa, and Randy (Eui Jeung) Peters of Johnston, Iowa; and one sister, Norma Frost of Vinton, Iowa.
Funeral Services were held 10:30 a.m., Thursday, May 19, 2022, at the First Reformed Church in Aplington, Iowa. Pastor Brett Vander Berg officiated the service. The organist was Cami Haugstad and she accompanied the congregation in singing, "What A Friend We Have In Jesus", "Because He Lives", "Jesus Loves Me", and "There Is Power In The Blood". Burial was held at the Bethel Reformed Cemetery rural, Aplington, Iowa with Jeff Matura, Travis Peters, Brandon Peters, Tyler Peters, Robert Matura, Justin Peters, Craig Peters, and Caleb Peters serving as Casketbearers. Honorary Casketbearers were Michelle Simons, Deann Frost, Laressa Peters, Janice Frost, Jolene Frost, Karla Frost, Briley Peters, and Aleeya Peters.
Visitation was held from 5:00 p.m. to 7:00 p.m. on Wednesday at the First Reformed Church in Aplington and one hour before services at the church. Memorials may be directed to the family. Redman Funeral & Cremation Services in Aplington was in charge of arrangements.
Category:
Parkersburg Eclipse News-Review
503 Coates St.
Parkersburg, IA 50665
Phone:  319-346-1461
Mid-America Publishing
This newspaper is part of the Mid-America Publishing Family. Please visit www.midampublishing.com for more information.