Delbert Kalkwarf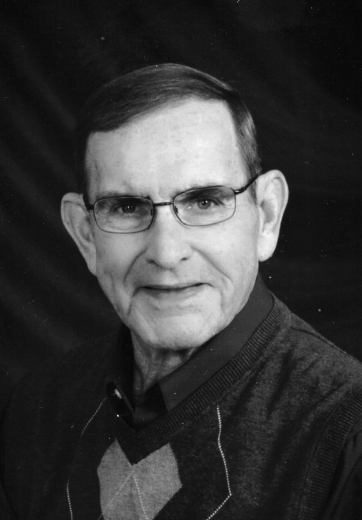 Delbert Lee Kalkwarf, age 86, of Parkersburg, Iowa was born the son of John and Helen (Haats) Kalkwarf on July 20, 1935, in Butler County, near Parkersburg, Iowa. He received his education and graduated from the Parkersburg High School in 1953. Delbert served in the United States Army from September 2, 1954, and was honorably discharged on July 5, 1956. He served overseas at Thule Air Force Base in Thule, Greenland, during the Korean war.
On September 19, 1956, Delbert was united in marriage to Arlene Meester at the Reformed Church of Stout, Stout, Iowa. The couple made their home and farmed northwest of Parkersburg, where he raised livestock and crops. On March 1st, 2002, Delbert and Arlene retired and moved to their current home in Parkersburg after farming for 46 years.
Delbert was a faithful member of Hope Reformed Church in Parkersburg, where he served as a deacon, elder, Sunday School superintendent, and youth group leader. He also enjoyed going to Couple's Club and attending JOY with Arlene. He was a member of the Aplington AMVETS, the Parkersburg American Legion, and Lions Club.
While living on the farm, Delbert proudly enjoyed collecting his red International Harvester Tractors and also participated in parades and tractor rides. He also enjoyed decorating the farm with Christmas lights during the holidays. After moving to town, Delbert enjoyed treating his neighbors with waffle breakfasts both in Parkersburg and in Florida. When Delbert retired, he especially loved attending his grandchildren's church and school events, spending winters in Florida, and enjoyed golfing and woodworking.
Delbert passed away on Thursday, September 2, 2021, at UnityPoint Health - Allen Hospital, in Waterloo, Iowa, of natural causes. He was preceded in death by one son, Kevin Kalkwarf; his parents; and two brothers, Albert Kalkwarf in infancy and John Kalkwarf.
Delbert is survived by his loving wife of 64 years, Arlene Kalkwarf of Parkersburg; two daughters, Kelli (Nick) Dix of Stout, and Kristi (Dave) Cleary of Parkersburg; one daughter-in-law, Jill Kalkwarf of Parkersburg; eight grandchildren, Erik (Megan) Kalkwarf, Amy Kalkwarf, Lon (Amanda) Dix, Kayla (Christopher) Schaefer, Reed (Ellie) Dix, Emily Dix, Landon Cleary, and Adyson Cleary; five great-grandchildren, Braxton and Isabella Kalkwarf, Mallory and Delaney Dix, Lola Dix and one on the way; one brother, Leonard Kalkwarf of Springfield, Virginia; one sister, Jeanette Oelmann of Aplington; one sister-in-law, Lorraine Kalkwarf of Aplington; and many nieces and nephews.
Funeral services for Delbert were held at 10:30 a.m. Tuesday, September 7, 2021, at Hope Reformed Church in Parkersburg with both, Pastor Nate Huisman and Rev John White officiating. Lois Fisher accompanied Randy Aalderks as he sang "Loving God, Loving Each Other" and "I'd Rather Have Jesus", as well as the congregation as they sang "In The Garden" and "How Great Thou Art". Special music was "God Bless The USA" recorded by Lee Greenwood. Burial was held at Oak Hill Cemetery in Parkersburg with Erik Kalkwarf, Christopher Schaefer, Reed Dix, Landon Cleary, Nick Dix, and Dave Cleary serving as Casketbearers. Honorary Casketbearers were Dennis Mulder, Chuck Krusey, Lon Dix and Delbert's granddaughters, Amy Kalkwarf, Kayla Schaefer, Emily Dix and Adyson Cleary. Military Rights were provided by the Parkersburg American Legion Post #285.
Visitation was held from 4:00 p.m. to 7:00 p.m. Monday, September 6, 2021, at the Redman Funeral & Cremation Services, in Parkersburg. Memorials may be directed to the family. Redman Funeral & Cremation Services in Parkersburg was in charge of arrangements. Online condolences may be left at www.redmanfuneral.com.
Category:
Parkersburg Eclipse News-Review
503 Coates St.
Parkersburg, IA 50665
Phone:  319-346-1461
Mid-America Publishing
This newspaper is part of the Mid-America Publishing Family. Please visit www.midampublishing.com for more information.