Donald Eugene "Pete" Miller, 97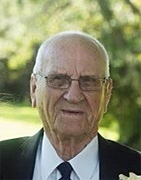 Donald Eugene "Pete" Miller, age 97, of Aplington, Iowa, was the son of Henry and Minnie (Bohlen) Miller.  He was born on September 18, 1925, in a farmhouse at what is now the corner of Jackson Avenue and 250th Street in rural Butler County.  Pete attended various country schools for a few years but found life much more interesting outside the classroom.  His chronic "stomach aches" finally allowed him to quit school after the fourth grade.  
On January 16, 1947, Don was united in marriage to Betty Lucille "Lucy" Koop at the Little Brown Church in Nashua.  They made their home and lived in Aplington their entire marriage.  The home on Nash Street saw its many remodels thanks to Don's brilliant usage of geometry and trigonometry despite the lack of a formal education.  
Rather than attending school, Don preferred physical labor and began "working out" at the age of 12 on his Uncle John's farm.  He worked for Charles Willeke and Sons making concrete drainage tile and laying block foundations and basements for many homes and barns throughout Butler County.  Since this was seasonal work, Don spent winters delivering coal and fuel oil and making hog ringers in the basement of Lindeman's Hardware.  He was the Street Commissioner for the City of Aplington from 1964-1991 doing all the street repairs, snow removal, and city park maintenance himself.  Even before the city bought a motorized street sweeper, Don cleaned Main Street with a push-broom.  
Don was a member of the Aplington Presbyterian Church for 50 years where he served a term as trustee.  While employed for the City of Aplington, Don was a firefighter for the Aplington Fire Department serving as assistant fire chief for many years, educating countless groups of children on fire safety, and driving the fire truck in Booster Days Parades.  He was a member of the Aplington Amvets Post 102 and loyally marched in Memorial Day parades for over 50 years.  
Don served his country in World War II from 1943-1946 as a tank operator in the 1268 Armored Division and then with the Combat Engineers where he helped build pontoon bridges across the Rhine River in Germany.  During his time in France, he operated a de-lousing station.  He also spent time in England, Belgium, and Northern Luzon, Philippines.
His travels during WWII were enough to last him a lifetime, and he preferred to spend most of his life close to home playing cards, working in the workshop he built after retirement, taking mini-vacations with friends and family, giving and receiving hugs, and helping anyone who needed anything.
Don died Saturday, January 28, 2023, at Maple Manor.  He was preceded in death by his beloved wife of nearly 63 years, his parents, one child, one granddaughter, three brothers, and one sister.  He is survived by two sons and their spouses, one daughter and her partner, eight grandchildren, 20 great grandchildren, one great, great grandson, one sister, one sister-in-law, and many nieces and nephews.  
Funeral Services will be 10:00 a.m., Thursday, February 2, 2023, at the Aplington Evangelical Presbyterian Church in Aplington, with burial in the Pleasant View Cemetery, in rural Aplington.
Visitation will be from 5:00 p.m. to 7:00 p.m., Wednesday, at Redman Funeral & Cremation Services, Aplington Chapel, and one hour before services at the church.
Memorials may be directed to the family.
Redman Funeral & Cremation Services in Aplington is in charge of arrangements.
Online condolences may be left at www.redmanfuneral.com
Category:
Parkersburg Eclipse News-Review
503 Coates St.
Parkersburg, IA 50665
Phone:  319-346-1461
Mid-America Publishing
This newspaper is part of the Mid-America Publishing Family. Please visit www.midampublishing.com for more information.