Doreen Ann Thorne, 91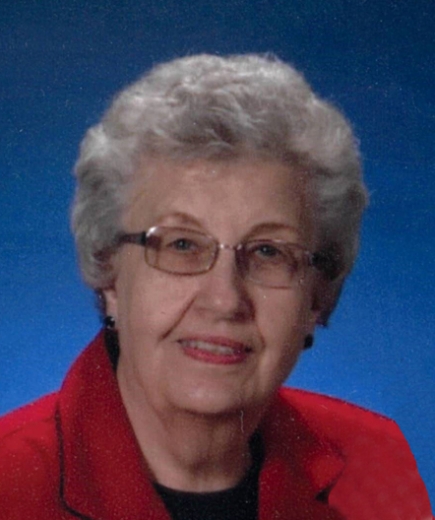 Doreen Ann Thorne, age 91, of Parkersburg, Iowa, was born the daughter of Dick and Annie (Tjebkes) Lindeman on July 18, 1931, in Aplington, Iowa. She graduated from Parkersburg High School in 1949. After graduation she briefly worked for Rath Packing in Waterloo, Iowa. 
On June 16, 1950, Doreen was united in marriage with Clifford Thorne at the First Congregational Church in Parkersburg. After marriage the couple made their home in Parkersburg where she worked as a homemaker.
Doreen was a member of the First Congregational Church in Parkersburg. She was active in choir, a member of the Ladies Guild, and attended Couples Club with Clifford. Over the years, Doreen would also bake for Camp K and Vacation Bible School. In her spare time, she enjoyed quilting, crocheting afghans, sewing family clothes, and taking fishing trips with the family. She always looked forward to all pastoral visits. Most of all, Doreen was especially proud of all her grandchildren and great grandchildren.
On Wednesday, April 19, 2023, Doreen passed away at Grand JiVanté in Ackley, Iowa, of natural causes. She is preceded in death by her husband, Clifford Thorne (September 12, 2015); parents; two grandchildren, Christopher and Christina Hofmeister; and two brothers Harold and Dennis Lindeman.  
She is survived by her three daughters, Charla (Alvin) Jungling of Melbourne, IA, Rhonda (Darwin) Hofmeister of Ackley, IA, and Sherri (Leon) Schwerdtfeger of Parkersburg, IA; eight grandchildren, Jerrid (Angie) Jungling, Emily (Gabe) Handy, Kristin (Matt) Dvorak, Darin (Hanna) Hofmeister, Shelby (James) Abbas, Stacy (Isaac) Webber, Nathan Schwerdtfeger, and Annie (Adam) Dohrn; 26 great grandchildren; one sister, Arlyce (Frank) Shirar of Allison, IA; and many nieces and nephews. 
Private Family Services were held, Monday, April 24, 2023, at First Congregational Church in Parkersburg, Iowa. Pastor Brian Koelsch officiated the service. Burial was held at Oak Hill Cemetery in Parkersburg with Jerrid Jungling, Gabe Handy, Matt Dvorak, Darin Hofmeister, James Abbas, Isaac Webber, Nathan Schwerdtfeger, and Adam Dohrn serving as Casketbearers. 
Emily Handy, Shelby Abbas, Stacy Webber, Annie Dohrn, and Kristin Dvorak served as Honorary Casketbearers. 
A Public Celebration of Life Open House was held from 2:00 p.m. to 5:00 p.m., Sunday, at the First Congregational Church in Parkersburg. Memorials may be directed to the family. Redman Funeral & Cremation Services in Parkersburg was in charge of arrangements.  Online condolences may be left at www.redmanfuneral.com
Category:
Parkersburg Eclipse News-Review
503 Coates St.
Parkersburg, IA 50665
Phone:  319-346-1461
Mid-America Publishing
This newspaper is part of the Mid-America Publishing Family. Please visit www.midampublishing.com for more information.