Doyle Kramer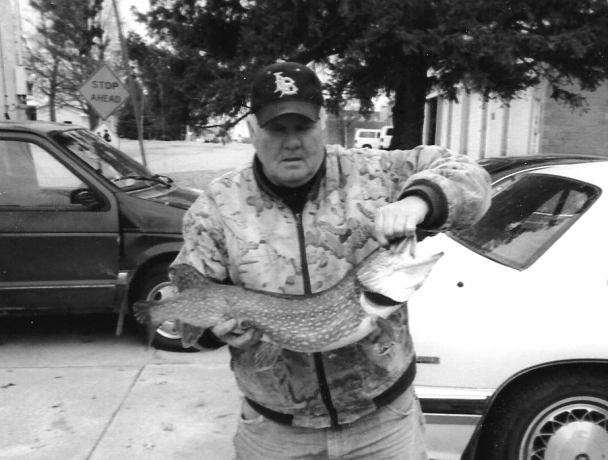 Doyle Wray Kramer, age 74, of Aplington, Iowa, was born the son of Rueben and Florence Kramer on October 12, 1946. Doyle passed away on August 28, 2021, at home after a hard-fought battle with cancer.
Doyle graduated from Aplington High School in 1964. He then served in the U.S. Army during the Vietnam War. Later he graduated from Gates Business School and then worked for Northwest Bank until they closed in 1998 when he retired. He then worked for the Aplington Recreation Complex. Doyle also served many years on the Aplington City Council.
On April 20, 1974, Doyle was united in marriage to Karla Michaelsen. Although they later divorced, they had two beautiful children during their union in marriage.
Doyle was later joined in marriage to Jodi Petersen on May 20, 1995. Jodi brought into the marriage four beautiful children, who Doyle always considered to be his own.
Doyle had a passion for fishing and hunting, which he handed down to his boys. He was also a huge Cubs, Iowa Hawkeye and Vikings fan. Most of all, Doyle took great pride in his family and was a wonderful, loving father and husband. He never missed any of his kids sporting events and always supported them in anything they chose to do.
Doyle is preceded in death by his parents, Rueben and Florence Kramer.
Doyle is survived by his wife, Jodi Kramer of Aplington, 3 sons, 3 daughters, and 5 grandchildren: Jason Kramer of Cedar Falls, Iowa, and his children Jade and Jaxen; Jennifer (Sean) Braden of Anamosa, Iowa, and their children Ali, Erika and Coy; Shayler Neymeyer (Erika Ramierz) of Parkersburg, Iowa; Shason Petersen (Sydney Simon) of Aplington, Iowa; Shakira (Brandon) Hirsh of Clarksville, Iowa; and Raylynn Tjabring of Aplington, Iowa; two sisters: Denise (Larry) Levien of New Hampshire, and Claudia (Larry) Bertram of Kesley, Iowa, and many other family and friends.
A Celebration of Life for Doyle Kramer is scheduled for 2 p.m. on Saturday, Sept. 18 at Legend Trail in Parkersburg.
Category:
Parkersburg Eclipse News-Review
503 Coates St.
Parkersburg, IA 50665
Phone:  319-346-1461
Mid-America Publishing
This newspaper is part of the Mid-America Publishing Family. Please visit www.midampublishing.com for more information.