Gerald Dean Peters, 72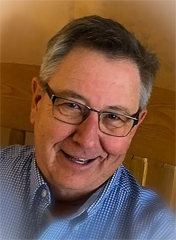 Gerald Dean Peters, age 72, of Parkersburg, Iowa, was born the son of Louis A. and Jessie (Schipper) Peters on August 19, 1950, in Waterloo, Iowa.  Gerald graduated from Aplington High School in 1968.  He also attended Iowa State University in Ames, Iowa.  
On April 14, 1972, Gerald was united in marriage with Sandra Lynne Geist at the Hope Reformed Church in Parkersburg.  After their marriage, the couple lived in Aplington and Gerald worked at the Aplington Elevator as well as farmed and did so until the present.  In 1978, they moved to an acreage west of Aplington.   In 1988, Gerald began  to operate his  Pioneer Dealership, which he did for 30 years, until 2018 when his son, Josh took it over, but he remained very involved.  Gerald and Sandy moved to their present home in Parkersburg in 2013, but he continued his passion in farming until the present..  
Gerald was a member of Bethel Reformed Church in rural Aplington.  Gerald helped in the planning and development of the low-income housing apartments in Aplington.  He also served on their Board of Directors.  Gerald served on the Aplington School Board for six years. Gerald was a member of the JC's and was a volunteer firefighter for many years.  He enjoyed several outdoor activities, especially fishing with his buddies twice a year in Canada.  He was always seen attending his children's and grandchildren's sporting events, where he also coached.  He enjoyed being a grandpa and a "papa".  Gerald thoroughly enjoyed his breakfast crew and various coffee groups  He cherished visits with his mother to have coffee or tea.  Gerald enjoyed his  crop patrolling and was known to have an occasional Busch Light.  He always was known for his contagious laugh amongst his friends and family.
On Saturday, September 10, 2022, Gerald passed away suddenly at Thunder Bay Medical Centre in Thunder Bay, Ontario, Canada.  He is preceded in death by his father, Louis Peters.
Gerald is survived by his wife of 50 years, Sandy of Parkersburg; three children, Clint (Kristi) Peters of Panora, Iowa, Josh (Lindsay) Peters of Aplington and Marci (Trent) Taylor of Cedar Falls, Iowa; seven grandchildren, Kaitlyn (Chase) Ballard, Coby Peters, Brady, Nathan and Austen Peters, and Ava and Elijah Taylor; his mother, Jessie Peters of Aplington; three sisters, Marge (Vernon) DeVries of Aplington, Lou (Alan) Stockdale of Parkersburg, Iowa, and Lori (Wes) Bantz of Fairbank, Iowa; a brother-in-law, Bill Geist of Parkersburg; a sister-in-law, Joyce Geist of Waterloo; and many nieces and nephews.
Memorial Services will be 10:30 a.m., on Thursday, September 15, 2022, at the Bethel Reformed Church in rural Aplington, with burial in the Oak Hill Cemetery in Parkersburg.
Visitation will be at the church from 4:00 p.m. to 8:00 p.m. on Wednesday, at the church.
Memorials may be directed to the family
Redman Funeral & Cremation Services in Aplington is in charge of arrangements.
Online condolences may be left at www.redmanfuneral.com
Category:
Parkersburg Eclipse News-Review
503 Coates St.
Parkersburg, IA 50665
Phone:  319-346-1461
Mid-America Publishing
This newspaper is part of the Mid-America Publishing Family. Please visit www.midampublishing.com for more information.