Henrietta Berniece Klooster, 100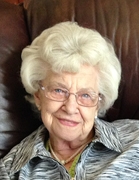 Henrietta Berniece Klooster, age 100, from Aplington, Iowa, was born the daughter of Ed and Follie (Karsjens) Miller on June 13, 1922. She received her education in rural Butler County schools.
On February 3, 1942, Henrietta was united in marriage with Herman Klooster in the First Reformed Church parsonage in Aplington, Iowa. After marriage the couple made their home on a farm east of Aplington where they farmed until their retirement and then moved into town in 2000. 
Henrietta was a member of Ackley Christian Reformed Church until it dissolved and then transferred her membership to the First Reformed Church of Aplington. She was also a member of the church's womens groups throughout the years.
In her spare time, she enjoyed crocheting, gardening, reading, and quilting. She especially enjoyed making baby quilts for the great grandchildren. She loved having the grandchildren stay over. She played games with them and made special treats for them. They especially enjoyed her pancakes and homemade bread. Her homemade bread was a favorite of the great grandchildren too. They would always ask for it and one of them called it "cloud bread". Her grandson, Kent, named his coffee shop, "Bev & Hennie's" in honor of her.
On Monday, February 27, 2023, Henrietta passed away at Maple Manor Village in Aplington, of natural causes . She is preceded in death by her parents; husband Herman Klooster (December 17, 2006); son-in-law, Paul Koenen; sister, Lois Rewerts; brothers, Joe, Edo, Cornelius, LeRoy, Wayne, Douglas, and Larry Miller.
She is survived by her four children, Diane (Art) Schipper of Aplington, Iowa, Judy Koenen of Bristow, Iowa, Patricia (Thor) Verrips of Woodward, Iowa, and Kevin (Marilyn) Klooster of Aplington, Iowa; 14 grandchildren, Brent (Laurie) Schipper, Joel (Shawn Pournaras) Schipper, Steven (Charlotte) Koenen, Scott Koenen, Shelly (David) McGill, Shawn (Melissa) Koenen, Seth (Stephanie) Koenen, Stacia (Brennan) Dolan, Wendi (Mat) Peterson, Evan Verrips, Becky (Blake) Current, Kirk (Rachael) Klooster, Kent (Missy) Klooster and Courtney (Jon) Anderson; 25 great grandchildren and 10 great great-grandchildren; two sisters, Dolores (Merle) Hoodjer of Allison, Iowa and Joyce Garner of Waverly, Iowa; sisters-in-law, Louise Miller of Allison, Iowa and Ruth Miller of Allison, Iowa; and many nieces and nephews. 
Funeral services were held at 10:30 a.m., on Friday, March 3, 2023, at First Reformed Church in Aplington.  Pastor Scott Summers of Bethel Reformed Church officiated the service.  Special family memories were shared by Brent Schipper and Kent Klooster.  Organist was Cami Haugstad and she accompanied the congregation as they sang "Blessed Assurance", "Come Thou Fount of Every Blessing" and "In The Garden".  Becky Current and Shelby Peterson sang "Hymn of Heaven".  Burial was held at Pleasant View Cemetery in Aplington, with Brent Schipper, Joel Schipper, Steven Koenen, Scott Koenen, Shawn Koenen, Seth Koenen, Evan Verrips, Kirk Klooster and Kent Klooster serving as Casketbearers  Honorary Casketbearers were Shelly McGill, Stacia Dolan, Wendi Peterson, Becky Current and Courtney Anderson.
Visitation was held 4:00 p.m. to 7:00 p.m., on Thursday, at the church and one hour before services.  Memorials may be directed to the Aplington Library.  Online condolences may be left at www.redmanfuneral.com
Category:
Parkersburg Eclipse News-Review
503 Coates St.
Parkersburg, IA 50665
Phone:  319-346-1461
Mid-America Publishing
This newspaper is part of the Mid-America Publishing Family. Please visit www.midampublishing.com for more information.