Henry Heeren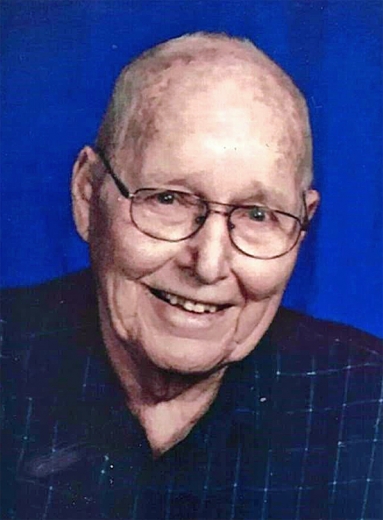 Henry "Hank" Thomas Heeren, age 101, of Parkersburg, Iowa, passed away peacefully at his home, surrounded by his family on June 22, 2022.
Henry was born on September 19, 1920, in rural Butler County to Louie and Grace (Klaassen) Heeren. Henry graduated from Parkersburg High School in 1938. Following graduation, Henry helped on the family farm. He liked to talk about driving his dad's first John Deere tractor home. He was so excited he no longer had to plow the fields with a horse. He also went with his father-in-law many times to Chicago to buy cattle.
On September 19, 1945, Henry was united in marriage with Margaret Andreessen in Parkersburg. They made their home on a farm near Stout, Iowa. Henry and Margaret were married 55 years and raised three daughters. As a family, they enjoyed traveling in the summer and spent some summers in Okoboji. Margaret passed away in August 2000.
Henry later married Kathy Miller on May 26, 2001, in Parkersburg, where they made their home. Henry and Kathy enjoyed going to the Clay County Fair. 
Henry farmed for 20 years, always making sure to use John Deere equipment. During that time, he also owned a trucking business. After Henry retired, he became a member of the Lions Club and volunteered with their medical loan closet. He took others to doctor's appointments and would help anyone, no matter what they needed.
Henry was a member of the Stout Reformed Church where he served as an elder, deacon and a Sunday School teacher. Henry also ministered at a Christian Coffee House in Cedar Falls and to those in prison. He enjoyed visiting the elderly and ministering to them in a variety of nursing homes. Henry's faith was very important to him, and he taught many people the teachings of the Lord. Henry later transferred his membership to the Christian Reformed Church in Parkersburg.
Henry's faith brought him through many trials. He was a true example of leading a Christian life. He taught and helped out many family members and friends with his true faith and work ethics. He will be truly missed by family and friends.
Henry is preceded in death by his wife, Margaret; an infant son, Marvin; a brother, Jake; two sisters, Anna Mae Mehmen and Ella; his parents; and his son-in-law, Kenny DeVries.
Henry is survived by his wife of 22 years, Kathy; three daughters, Dianne DeVries of Stout, Linda Heeren of Woodridge, Virginia, and Marlene (Jerry) Hoelker of Sergeant Bluff, Iowa; one stepson, Justin Byers of Nashua, Iowa; six grandchildren, Kristy (Dan) Luiken of Steamboat Rock, Iowa, Mark (Bobbie) DeVries of Parkersburg, Bruce (Pam) DeVries of New Hartford, Iowa, Karla (special friend, Marty Beckner) Altenbaumer of Cedar Falls, Iowa, Christopher (Tara) Hartman of Sioux City, Iowa, and Eric Hartman of Sioux City; ten great-grandchildren, Spencer, Mitchell, and Carson Van Hauen, Hailey DeVries, Sarah and Amy DeVries, Cameryn, Taylor Grace and Henry Hartman and Alexa Hartman.
Funeral services were held at 10:00 a.m., Monday, June 27, 2022, at the Christian Reformed Church in Parkersburg, with Pastor Russell Boersma officiating. Organist was Jan Johnson, and she accompanied the congregation as they sang "Jesus Loves Me". Sherry Langfritz, Makenzie Banicky and Ally Bagenstos sang "How Great Thou Art" and "Amazing Grace". Christopher Hartman, Eric Hartman, Karla Altenbaumer and Kristy Luiken shared special family memories. "I Can Only Imagine" and "Fathers & Daughters" were played during the service. Burial was held at Stout Cemetery in Stout and Christopher Hartman, Eric Hartman, Kristy Luiken, Karla Altenbaumer, Bruce DeVries and Mark DeVries served as Casketbearers. Homorary Casketbearers were Spencer Van Hauen, Mitchell Van Hauen, Carson Van Hauen, Hailey DeVries, Sarah DeVries, Amy DeVries, Alexa Hartman, Cameryn Hartman, Taylor Grace Hartman and Henry Hartman.
Visitation was held from 5:00 p.m. to 7:00 p.m. on Sunday, June 26, at the Christian Reformed Church in Parkersburg. Memorials may be directed to the family. Redman Funeral & Cremation Services in Parkersburg was in charge of arrangements. Online condolences may be left at www.redmanfuneral.com
Category:
Parkersburg Eclipse News-Review
503 Coates St.
Parkersburg, IA 50665
Phone:  319-346-1461
Mid-America Publishing
This newspaper is part of the Mid-America Publishing Family. Please visit www.midampublishing.com for more information.