Kathryn Brouwer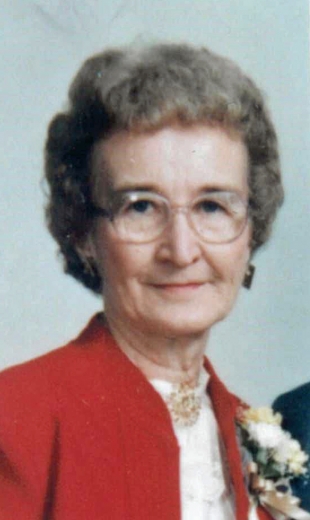 Kathryn Mildred Brouwer, age 101, of Aplington, Iowa, was born the daughter of Bauko and Katherine (Huisinga) Ostercamp on February 1, 1921, in Grundy County, Iowa. She received her education and graduated from Aplington High School in 1938. 
On December 7, 1942, Kathryn was united in marriage to Harold Brouwer at the Aplington Baptist Church Parsonage. After marriage the couple farmed near Parkersburg and Stout and then moved to their farm near Aplington in 1948. Harold passed away in 2013 and they were married for 70 years. Kathryn was a member of Bethel Reformed Church and active in the Ladies Guild. Kathryn was faithful and loved reading the Bible.
Kathryn enjoyed being a homemaker and her life on the farm. She loved visiting with family and friends and there was always a "cup of tea and a piece of apple pie". Throughout her life she enjoyed a few fishing trips to northern Minnesota. She also loved spending time with her grandchildren and great-grandchildren. 
Kathryn passed away peacefully on July 16, 2022, at Maple Manor Village in Aplington, of natural causes. She was preceded in death by her husband; parents; three brothers, Lester (Elaine) Ostercamp, Clarence (Kay) Ostercamp, and Robert (Willa May) Ostercamp; and one sister, Alice (Henry) Harms.
Kathryn is survived by two sons, Wayne (Marlene) Brouwer and Steve (Sherry) Brouwer both of Aplington, Iowa; one daughter, Ardelle (Hollis) Janssen of Ackley, Iowa; six grandchildren; 16 great grandchildren; and many nieces and nephews. 
Funeral services will be held at 2:00 p.m., on Wednesday, July 20, 2022, at Bethel Reformed Church in rural Aplington, with Pastor Scott Summer officiating. Organist will be Belva Schipper and she will accompany the congregation as they sing "In The Garden", "It Is Well with My Soul" and "God Will Take Care of You". The burial will be held at Pleasant View Cemetery in rural Aplington with Jill Murra, Gretchen Muller, Sarah Town, Dan Brouwer, Harley Janssen and Michael Janssen serving as Casketbearers.
Visitation will be held one hour before service at the church. Memorials may be directed to the family or Bethel Reformed Church. Redman Funeral & Cremation Services – Aplington Chapel is in charge of arrangements. Online condolences may be left at www.redmanfuneral.com
Category:
Parkersburg Eclipse News-Review
503 Coates St.
Parkersburg, IA 50665
Phone:  319-346-1461
Mid-America Publishing
This newspaper is part of the Mid-America Publishing Family. Please visit www.midampublishing.com for more information.