Marjorie Frances Karsjens, 95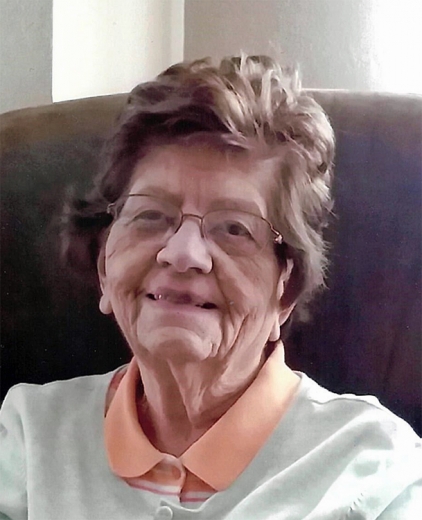 Marjorie Frances Karsjens, age 95, of Grundy Center, Iowa, formerly of Aplington, Iowa, was born the daughter of Otto and Nancy (Schoneman) Renken on December 13, 1927, in rural Parkersburg, Iowa.  She graduated from Parkersburg High School in 1946.  Marjorie then attended Iowa State Teachers College and Wartburg College. After her schooling, Marjorie taught country school for three years.  
  On December 28, 1951, Marjorie was united in marriage with Donald Dave Karsjens at the First Congregational Church in Parkersburg.  The couple farmed northwest of Parkersburg and in 1982, they moved west of Aplington, where Donald and Marjorie continued farming.  After their marriage, Marjorie worked as a secretary at Rath Packing and Calhoun Manufacturing, both in Cedar Falls.  She then went to work at Faber Insurance in Parkersburg.   Marjorie worked alongside Don as they farmed.  She was a great cook and always enjoyed taking meals to the field during planting and harvest.  After the children grew up, Marjorie went to work at Plastronics, finally retiring after 16 years.  After her retirement, Marjorie worked at Aplington-Parkersburg School and Timothy Christian School, sorted corn for Asgrow and also worked at Anderson Greenhouse.  Marjorie believed when working for somebody, you need to do the job well.
Marjorie was a member of First Reformed Church in Aplington where she was a part of the Women's Guild, taught Bible School and helped with AWANAs.   Marjorie later joined Orchard Hill Church of Grundy Center.  She enjoyed gardening, embroidering, mowing lawn, cardinals and the color red.  She enjoyed drinking tea and shopping with her special friend, Tammy.  Marjorie enjoyed their family vacations and loved spending time with her family, especially her grandchildren.  
On Friday, January 20, 2023, Marjorie died at Arlington Place in Grundy Center, of natural causes.  Marjorie is preceded in death by her husband of 37 years, Donald on May 29, 1989; her daughter, Patience Hewitt; her parents, Otto and Nancy Renken; one sister, Delores and her husband, Homer Ross; and one sister-in-law, Jean Renken.
Marjorie is survived by her son Prentice (Julie) Karsjens of Parkersburg; five grandchildren, Alexis and Noah Karsjens, Nathaniel, Gabriel and Isaiah Johnson; three great-grandchildren, Caleb, Brielle and Wyatt Johnson; one brother, Art Renken of Aplington and one sister, Ruth (Dale) Pulford of the Quad Cities.
Funeral services were held at 10:30 a.m., on Thursday, January 26, 2023, at the First Reformed Church in Aplington, with Pastor Mike Broost officiating.  Alexis Karsjens shared memories of her grandmother.  Randy Aalderks provided special music as he sang "How Great Thou Art".  The congregation sang "In The Garden" and "Amazing Grace".  Burial was held at Pleasant View Cemetery in Aplington with Prentice Karsjens, Alexis Karsjens, Noah Karsjens, Nathaniel Johnson, Gabriel Johnson and Isaiah Johnson serving as Casketbearers. 
Visitation was held from 5:00 p.m. to 7:00 p.m. on Wednesday at the First Reformed Church, and one hour before the service.  Memorials may be directed to family.  Redman Funeral & Cremation Services – Aplington Chapel was in charge of arrangements.  Online condolences may be left at www.redmanfuneral.com
Category:
Parkersburg Eclipse News-Review
503 Coates St.
Parkersburg, IA 50665
Phone:  319-346-1461
Mid-America Publishing
This newspaper is part of the Mid-America Publishing Family. Please visit www.midampublishing.com for more information.