Nancy Rasmussen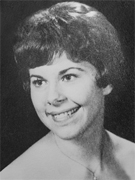 Nancy Carol Rasmussen, age 76, of Parkersburg, Iowa, was born the daughter of Herman and Dorothy (DeGroote) Hempen, on February 21, 1946, in Aplington, Iowa. Nancy grew up in the Parkersburg community and graduated from the Parkersburg High School in 1964. 
Nancy was married to Daryl Rasmussen and to this union three sons were born, Curtis, Craig, and Chad. The couple then later divorced, and Nancy continued to live in the Parkersburg area. She was a former member of the Calvary Baptist Church in Parkersburg. 
Nancy enjoyed being a homemaker and in her spare time, she loved sewing, knitting, and time spent camping with her parents.
On Wednesday, August 3, 2022, Nancy passed away at the Pinnacle Specialty Care in Cedar Falls, Iowa, of natural causes. She was preceded in death by her parents.
Nancy is survived by three sons, Curtis (Diane) Rasmussen of Aplington, Iowa, Craig (Valerie) Rasmussen of Des Moines, Iowa, and Chad (Jane) Rasmussen of Long Grove, Iowa; eight grandchildren; and three great grandchildren. 
Private family graveside services will be held.  Memorials may be directed to the family.  Redman Funeral & Cremation Services in Parkersburg is in charge of arrangements.  Online condolences may be left at www.redmanfuneral.com
Category:
Parkersburg Eclipse News-Review
503 Coates St.
Parkersburg, IA 50665
Phone:  319-346-1461
Mid-America Publishing
This newspaper is part of the Mid-America Publishing Family. Please visit www.midampublishing.com for more information.