Naomi Caroline Allspach, 96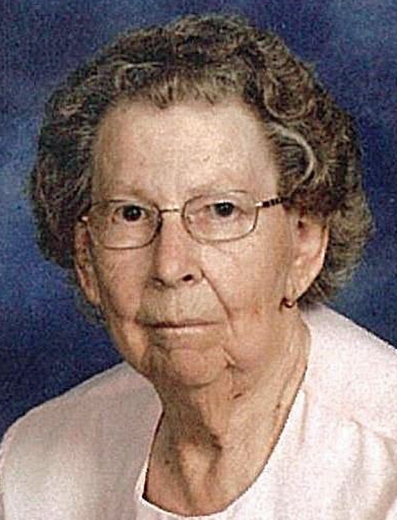 Naomi Caroline Allspach, age 96, of Parkersburg, Iowa, was born the daughter of Herman and Meta (Fresenborg) Allspach on March 26, 1926, on the family farm in rural Parkersburg. Naomi received her education at Beaver Township #1 in rural Parkersburg and then graduated from Parkersburg High School in 1944. After her graduation, Naomi attended Iowa Teachers College in Cedar Falls, Iowa, and later attended two summers at Calvin College in Grand Rapids, Michigan. 
Naomi taught school at the country school in rural Wellsburg, then five years in Sully, Iowa.  She later taught kindergarten through 3rd grade at the Excelsior Christian School until she retired.  Naomi was blessed to have taught all her nieces and nephews.
Naomi was a lifelong member of the Christian Reformed Church in Parkersburg.  She served as the bulletin secretary for 44 years, took attendance, taught Sunday School and was a member of the Sonshine Circle.
Naomi enjoyed nature, flowers and watching birds. She loved to crochet and made several blankets and doilies. 
Naomi died Saturday, October 15, 2022, at Parker Place in Parkersburg, Iowa, of natural causes. She is preceded in death by her parents; and one brother, Gordon Allspach; one sister, Doris Allspach; and one nephew, Douglas Allspach.
Naomi is survived by one brother, Donald (Annie) Allspach of Parkersburg; one sister-in-law, Joy Kneppe of Parkersburg, and seven nieces and nephews.
Funeral services were held at 10:30 a.m., on Saturday, October 22, 2022, at the Christian Reformed Church in Parkersburg, with Pastor Russell Boersma officiating.  Organist was Angie Meester and she accompanied the congregation as they sang "What A Friend We Have In Jesus" and "Under His Wings".  Del Allspach & Sandy Horstman sang "Grace" and Lindsey Renken, Carly Pollock & Emily Russell sang "His Eye Is On The Sparrow".  Burial was held at Oak Hill Cemetery in Parkersburg with Brad Allspach, Del Allspach, Kevin Timmer, Morry Horstman, Bob Oler and Ron Russell serving as Casketbearers.  Honorary Casketbearers were Jim Markley, Ryan Allspach, Andrew Markley, Mike Allspach, Matt Horstman and Travis Diedrich.
Visitation was held one hour before the service at the Christian Reformed Church.  Memorials may be directed to the family.  Redman Funeral & Cremation Services, Parkersburg Funeral Home was in charge of arrangements.  Online condolences may be left at www.redmanfuneral.com
Category:
Parkersburg Eclipse News-Review
503 Coates St.
Parkersburg, IA 50665
Phone:  319-346-1461
Mid-America Publishing
This newspaper is part of the Mid-America Publishing Family. Please visit www.midampublishing.com for more information.