A-P football outlasts South Hardin in high-scoring affair
PARKERSBURG – Victory was within Aplington-Parkersburg football's grasp on Friday night.
The Falcons just needed to be ready to seize the moment.
"They needed to understand they were one play away from basically ending this game," A-P head coach Alex Pollock said. "Unfortunately you don't know what exactly that play's going to be, you've got to be alert at all times."
South Hardin made A-P sweat it out, but when the Falcons' backs were against the wall, A-P made the plays necessary to finish off a 41-35 victory over the Tigers at Ed Thomas Field and secure the team's first victory in district play.
Keep reading the article below thanks to this local Aplington-Parkersburg supporter!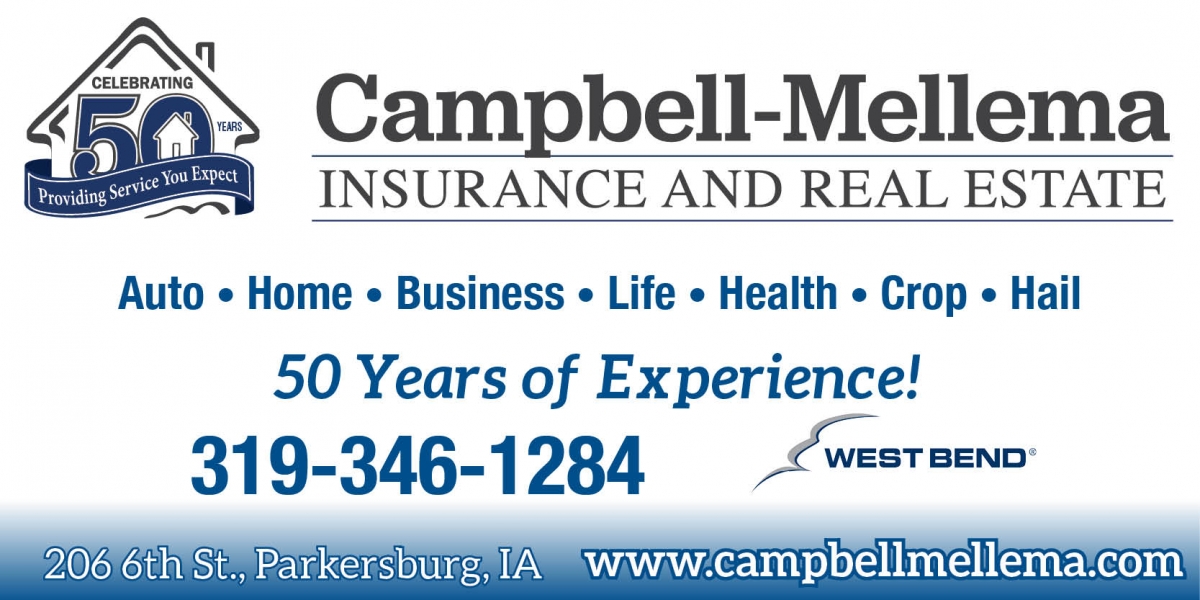 The Falcons (3-2, 1-1 district) head to neighboring rival Dike-New Hartford next Friday.
"This is a huge confidence boost, and we really needed it," said A-P junior Carson Troyna. "It's obviously a huge game, so it's a good win this week and hopefully it carries over."
Early in the fourth quarter, Gavin Thomas hit Kaden Huttinger for a 9-yard touchdown score, with Huttinger wide open in the end zone, and the Falcons went up 41-21.
Kael Schoneman snagged an interception on South Hardin's next drive and though there was 8:30 showing on the scoreboard, it seemed time was up for the Tigers.
But South Hardin regained possession after a turnover on downs and a long Ryan Walters reception plus a penalty charged to A-P set up the Tigers in the red zone and Waylen Butler ran in from 1-yard out to cut the lead to 13 points.
Then the Tigers recovered the ensuing onside kick, and a quick five-play drive ended in another Butler touchdown, this time on a pass from quarterback Mason Sheldahl, who threw for three touchdowns on Friday.
Suddenly, the lead had dwindled to six, 41-35, with 4:24 to play.
"It was just mental errors on our part, we just had to get together and finish the game," said A-P senior Sam Livingood.
The Falcons were able to land on the second onside kick and got a first down run from Junker with just over three minutes remaining.
After a false start backed up the Falcons to 3rd-12 from the South Hardin 42, Thomas floated it to Junker, who after evading his first tackler nearly stumbled to the ground short of the first-down marker, slipping in the wet grass but keeping his footing long enough to get the extra yards for the first down. Livingood added a solid run on first down and
Junker moved the chains one last time deep into the red zone after the Tigers took their final timeout, with the Falcons able to go into victory formation.
A-P ultimately prevailing through their run game was indicative of the strength of their ground attack on Friday; the
Falcons scored five touchdowns on the ground, including touchdown runs of 30 and 25 for Adam Schipper and a 59-yard scamper one of two touchdowns for Livingood.
Livingood led the land assault with 13 carries for 119 yards, and his long score was especially memorable for the senior.
"I got the handoff and at first, I didn't see anything," Livingood explained. "Then the sea parted, Kale Riherd led me through the hole, and I was gone."
It was quite the battle at the line of scrimmage between two teams that weren't afraid to get physical or emotional about the big plays.
"It all starts in the weight room," Troyna, the team's center, said. "And with the Wing-T (offense), it's a mentality change. You have to hit them first. You can't wait for them to come to you. So we've just been switching our mindsets on everything."
Pollock singled out Riherd when talking about the offensive line. Riherd went from being slotted as the team's quarterback in the summer, to moving to tight end, and then filling in at guard as the Falcons battle through injuries on the offensive line.
"We didn't move him [to tight end] because he couldn't do the QB work, but because we knew he could be special at another position," Pollock said. "When I came to him on Monday this week and asked him what he thought about playing guard this week, … he said, 'Whatever it takes, I will do it.'
"He's one of the most selfless individuals I've ever been around and he played a heck of a game on the offensive line today."
Freshman Jackson Mulder got some varsity snaps in the second half as well on the offensive line.
"We're starting to understand the physicality that it takes to be successful," Pollock said, "as well as mixing in the play-action pass which has been really good for us, so I'm really happy for our guys up front, and I think our best times are ahead yet."
Though A-P's defense wasn't perfect, the Falcons' secondary play went a long way toward putting A-P in the big fourth-quarter lead to begin with.
Kaden Huttinger was a shutdown corner for most of the second half, with Livingood assigned for double teams on South Hardin star Ryan Walters at times in the second half.
Walters still got plenty in the first half, including scoring South Hardin's first two TDs on long receptions from Sheldahl.
But the Falcons made him work for it.
"We've got a good [secondary] group that communicates really well," Pollock said. "Huttinger did a good job covering Walters and we had Livingood come over the top and double him at times and that really helped quite a bit. And I credit our guys up front for stopping the run, they were successful with that in the first half, and we just did a better job of playing our gaps and being more aggressive that way."
Huttinger also had five catches for 109 yards, including the fourth-quarter touchdown.
Dike-New Hartford is flying high, undefeated at 5-0 and not leaving much doubt against most of their opponents to this point.
"It's a big game against a great team. But I think our guys will be up to the challenge," Pollock said. "We've got a ton of selfless kids right now that all have one goal. We're really banged up right now, but it doesn't really matter. Our guys are going to continue to fight, to play for each other, and it's fun to watch them right now and see them grow."
Category:
Parkersburg Eclipse News-Review
503 Coates St.
Parkersburg, IA 50665
Phone:  319-346-1461
Mid-America Publishing
This newspaper is part of the Mid-America Publishing Family. Please visit www.midampublishing.com for more information.