Robert Neavins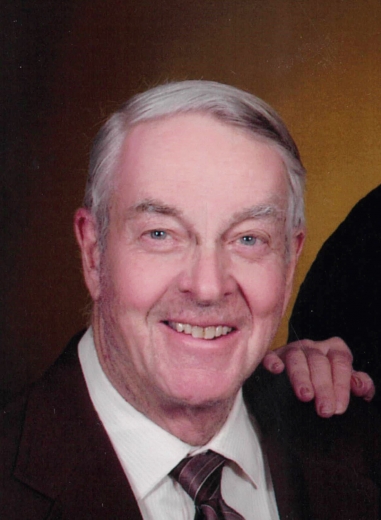 Robert "Bob" Stafford Neavins, age 82, of Parkersburg, Iowa, passed away peacefully at home surrounded by his family on June 20, 2022.  Bob was born on February 13, 1940, in Davenport, Iowa to Harry and Lucile (Sorrowfree) Neavins and grew up in Rock Island, Illinois with his siblings Carolu, Sue, and Tom.  Bob graduated in 1958 from Alleman Catholic High School and then graduated from Arizona State University in 1963 by way of St. Ambrose College and the University of Iowa.  He was a member of the Phi Beta Kappa Fraternity and earned his degree in Advertising. 
After graduating he was in the army from 1963-1965 where he was the company clerk at Fitzsimons General Hospital in Denver, Colorado. While working as an assistant manager for Arlan's Department Store he met his wife, Margaret "Peg" Hosch.  He and Peg were married on August 3, 1968, at St. Patrick's Catholic Church in Parkersburg, Iowa.  While working for Arlan's they lived in East Moline, Illinois, Fort Collins and Denver, Colorado.
In May of 1972 they took a leap of faith and bought a hardware store in Peg's hometown of Parkersburg.  They ran the Parkersburg True Value, through better or worse, for forty-five years.  He was an active member of the community and St. Patrick's church for decades.  He was the Chamber of Commerce President and received the Community Betterment Award for the Depot Park and along with Peg was named Co-Citizen of the Year.
Bob began his love of adventure as early as kindergarten, when he woke up early and trotted off to his first day of school on his own before his parents were awake.  Growing up along the Mississippi River, he and his friends spent many hours on their homemade boat, "The Studly J".  He traveled to all fifty states and numerous countries.  He had a passion for skiing and taught all his children to ski at an early age.  He loved spending time on the water with his canoe and kayak along with water skiing and fishing.  He spent countless hours playing basketball, swimming, biking and riding the PPV (People Powered Vehicle) with his kids while they were growing up.
His Catholic faith was very important to him along with teaching his children a strong work ethic and they all worked at the store from the age they could carry a gallon of paint until leaving for college. From the earliest years of his children's lives he attended their various activities and cheered for their sports teams. He was always up for playing a game of ping pong with his grandchildren or building their imaginations with his model trains in his extensively landscaped train room.
His heart was forever broken in June 1994 when his son, Mike died in a bike accident. They shared a special bond with sports, repairing bikes, playing catch, discussing Mike's life at Loras College, fishing and sharing a butterscotch malt.
Bob is proceeded in death by his parents Harry and Lucile Neavins; one son Mike Neavins; sister and brother-in-law Carolu and Jack Condon; one sister, Sue Lohman; one infant sister, Mary Neavins; three brothers-in-law, Mike Hosch, Jim Hosch, and Richard Whitfield; one son-in-law, John Mikel; one niece, Jann Lohman; and one nephew, Dave Sweeney.
Bob will forever be missed by his loving wife Peg of 54 years; three daughters, Kristine (Andrew) Sargent of Bettendorf, Iowa, Becky (Nick) Klitzkie of North Aurora, Illinois and Jessica (Adam) Riley of Decorah, Iowa; 9 grandchildren, Andrew (Halle) Mikel of Chicago, Illinois, Patrick Mikel of Bettendorf, Iowa, Matthew and Timmy Sargent of Bettendorf, Iowa, Joslyn and Parker Klitzkie of North Aurora, Illinois and McKenzie and Carter Riley of Decorah, Iowa; one brother, Tom (Sharon) Neavins of Geneva, Illinois; sisters-in-law, Susan Hosch of Parkersburg, Iowa, Carla Whitfield of Rock Island, Illinois, Madonna Hosch of Elkader, Iowa, and sister and brother-in-law, Kathy and Robert Vance of San Marcos, Texas; and 36 nieces and nephews.  
Funeral Services will be held at 11:00 a.m. on Wednesday, July 6, 2022, at Holy Family Parish – St. Patrick's Catholic Church, with burial at St. Patrick's Catholic Cemetery, both in Parkersburg.
Visitation will be 9:00 a.m. to 11:00 a.m. on Wednesday, July 6, before the service at St. Patrick's Catholic Church in Parkersburg.
Memorials may be directed to A-P Dollars for Scholars, Parkersburg Ambulance or Unity Point Hospice.
Redman Funeral & Cremation Services in Parkersburg is in charge of arrangements.
Category:
Parkersburg Eclipse News-Review
503 Coates St.
Parkersburg, IA 50665
Phone:  319-346-1461
Mid-America Publishing
This newspaper is part of the Mid-America Publishing Family. Please visit www.midampublishing.com for more information.