Tami Renee Oldenburger, 48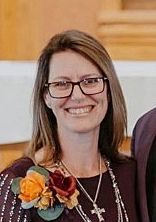 Tami Renee Oldenburger, age 48, of Clarksville, Iowa, was born the daughter of Steve and Janice Bierstedt on March 15, 1975, in Ida Grove, Iowa. She attended Dike-New Hartford High School and graduated in 1993.
On November 30, 1996, she was united in marriage with Aaron M. Oldenburger at the Little Brown church in Nashua, Iowa. The couple first lived in Aplington, Iowa for 9 years until they moved to their current home on Butler Center Road in February of 2007. Tami's first career was selling furniture at Simpsons Furniture in Cedar Falls, Iowa, then working at Heartland Windows in Aplington for over 20 years. She was currently working alongside her husband Aaron and daughter Kiana at West Fork Grinding at the office in Fern.
Tami's first and foremost love was her family, especially her children. When they were growing up she would always throw enormous birthday parties every single year to ensure that her kids would always feel beyond special on their special day. Her fierce love of family was always one of her greatest attributes. Another one of her great loves in life was her flowers. Lilies to be specific. She has literally every color combination of Lily that you can imagine planted around the house. Her flowers gave her great pride and satisfaction whenever someone would comment on how beautiful they were. Her other great love in life was Kiana's bloodhound Capone, which lead her to her own bloodhound, Hank. The bond she formed with those two dogs was second only to her children. Tami was an extremely hard worker and was never afraid of an honest day's work. She always said I work as hard as I do so that my family always knows how much they mean to me. As life progressed she developed an extremely close relationship with Grandpa Bill Oldenburger and through her relationship with Grandpa Bill her faith in God came full circle. 
Aaron and Tami enjoyed every part of life together. From traveling to places like Arizona, Texas, and California to working together outside on the lawn and flowers to just spending time with each other. They did absolutely everything together.
Tami passed away on Sunday, April 23, 2023, at the Cedar Valley Hospice Home in Waterloo, Iowa of brain cancer. She fought valiantly as always until the end.
She is survived by her husband of 26 years, Aaron; son, Dylan (Shelby) Oldenburger of Grundy Center, Iowa; daughter, Kiana Oldenburger (Fiancée Jacob Walters) of Aplington, Iowa; her parents, Steve and Jan Bierstedt of Lake View, Iowa; brother, Jay (Mena) Bierstedt of Roland, Iowa; father and mother-in-law, Neal and Verlene Oldenburger of Aplington, Iowa; and niece and nephew, Nick Oldenburger of Urbandale, Iowa and Jada Oldenburger of Cedar Falls, Iowa.
Funeral services were held at 10:30 a.m., on Thursday, April 27, 2023, at the First Reformed Church in Aplington.  Pastor Bill Saak with Cedar Valley Hospice officiated the service.  Randy Aalderks provided special music as he sang  "Amazing Grace" and "I Can Only Imagine".  The burial was held at Pleasant View Cemetery in rural Aplington, with Kiley Winterberg, Matt Gerdes, Nick Oldenburger, Kent Ubben, Jacob Walters and Casey Lester serving as Casketbearers.  
Visitation was held from  4:00 p.m. to 8:00 p.m., on Wednesday, at the First Reformed Church and one hour before services at the church.  Memorials may be directed to the Hope Lodge in Iowa City, Iowa.  Redman Funeral & Cremation Services, Aplington Chapel was in charge of arrangements.  Online condolences may be left at www.redmanfuneral.com
Category:
Parkersburg Eclipse News-Review
503 Coates St.
Parkersburg, IA 50665
Phone:  319-346-1461
Mid-America Publishing
This newspaper is part of the Mid-America Publishing Family. Please visit www.midampublishing.com for more information.