Vivian Lavonne Fisher, 87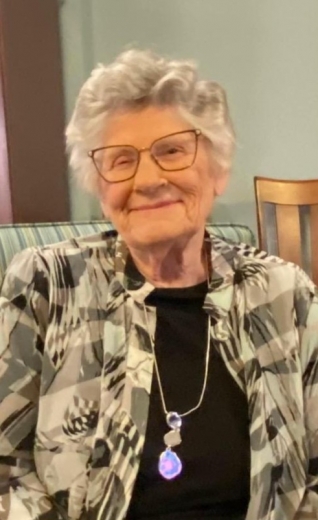 Vivian Lavonne Fisher
1936 - 2023
WELLSBURG — Vivian Lavonne Fisher, 87 of Wellsburg, died Nov. 2, 2023, at Grand JiVante in Ackley.  
Funeral Services will be 11 a.m. Saturday, Nov. 11, 2023, at St. Peter's Country Church in rural Wellsburg with burial in East Friesland Cemetery.  The visitation will be an hour before the service.  Funeral arrangements are with Sietsema Funeral Home in Ackley, IA.
Vivian Lavonne Fisher was born on July 16, 1936, in Aplington, the daughter of Frederick and Lydia (Pannkuk) Meyer.  Vivian graduated from Aplington High School in 1954 and attended the University of Dubuque for three years, where she sang in the concert choir and studied English.  Vivian married Ronald Fisher in 1957 and worked at Interstate Finance while Ronald finished his college degree. In 1959, Vivian and Ronald moved back to the family farm in Wellsburg. Vivian supported Ronald's farming and lay pastor position at St. Peter's Country Church for 33 years.  Vivian was active in the church as the choir director and prayer fellowship leader and helped organize and lead youth campouts.  She was a devoted wife and mother, woman of God, prayer warrior, loved farming, an avid reader, member of Progress Club in Steamboat Rock, crocheted and knitted many projects, enjoyed jigsaw puzzles, playing cards, cheering for her Iowa Hawkeyes, and spending time fishing at her cabin on the Lake of the Woods, Minn.
Vivian is survived by two sons, Brent (Deb) Fisher of Aplington and Todd (Diana) Fisher of Clear Lake, two daughters, Laura (Steven) Burger of California, Mo. and Michelle (Michael) West of Winnebago, Ill., grandchildren (10) and great-grandchildren (7): Aaron Fisher of Hubbard, Jon (Miranda) Fisher and son Liam of Cedar Falls, Tim (Sarah) Fisher and daughters Breanna, Savannah, Lilly of Waverly, Sarah (Eric) Stuckemeyer and daughter Karli of Billings, Mo., Grant (Bailey) Burger of Kansas City, Mo., Luke Burger (Katie Hayes -fiancé) of Richmond, Va., Lauren (Zach) Crutcher children Madison and Zephyr of Winnebago, Ill., Lydia West (Jose Mendez – fiancé) of Madison, Wis., Blaine Fisher of Clear Lake and Lindsay Fisher (Noah Koehly – partner) of Clovis, N.M. Two brothers, Lee (Mary) Meyer of Aplington and Frederick Meyer of Aplington, sister-in-law Linda Meyer of New Hartford and two nephews and one niece. 
Vivian was preceded in death by Ronald Fisher (husband), Frederick and Lydia (Pannkuk) Meyer (parents), Wendell Meyer (brother), Arend and Jennie (Sietsema) Fisher (father and mother-in-law), Arnold Fisher (brother-in-law), and Scott Blackmon (son-in-law).
Monetary memorials will be divided between Samaritan's Purse and the Ackley Public Library. 
Category:
Parkersburg Eclipse News-Review
503 Coates St.
Parkersburg, IA 50665
Phone:  319-346-1461
Mid-America Publishing
This newspaper is part of the Mid-America Publishing Family. Please visit www.midampublishing.com for more information.